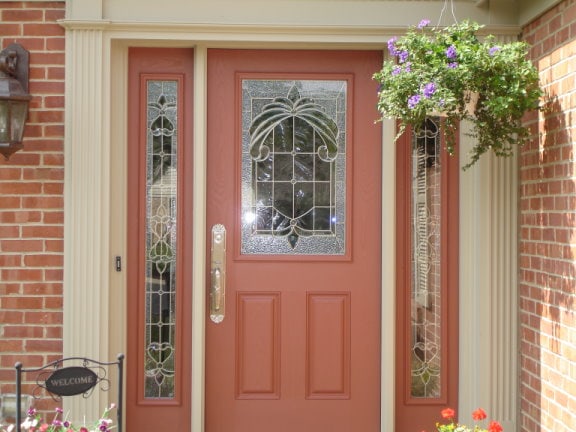 New home construction is a very exciting process for prospective homeowners. Whether you're just constructing or remodeling your home, we have the perfect doors to enhance the natural beauty of your home. We understand that you have plenty of questions about the right types of entry door to choose, and we will be happy to answer all of your questions if you choose to visit out showroom or call us. Today we're going to discuss some of the details you should keep in mind when choosing exterior doors for your home.
Entry Door
The first thing to keep in mind is to look for a door that has a high energy star rating. You want to purchase a door that will improve the energy efficiency of your home in addition to looking amazing and improving the curb appeal of your home. We work primarily with Therma Tru fiberglass and steel doors, and Pella storm doors to achieve those goals.
Steel, Fiberglass, or Wood?
Steel doors are very heavy duty, energy efficient, and strong. Steel is the strongest material used for entry doors. They won't crack or warp, and may be painted any color you choose.
Wood entry doors are the most common. They're very strong and provide a natural appearance. You may choose to stain them to maintain the lovely wood grain appearance, or paint them for a solid color. Most wood doors are made of oak, maple, fir, mahogany, cherry, or pine.
Fiberglass doors are very tough and the most maintenance-free option available. They're perfect for harsh or humid climates. They may be designed to match the appearance of other materials including steel and wood. Many companies offer impressive warranties on fiberglass doors that extend to the life of the home.
Entry Door Surrounds
Surrounds are the decorative parts that fit on the sides and top of the door. You may choose to add solid wood decorative panels, glass, stained glass, cast iron, or nearly anything else you can imagine. We regularly work with Fypon surrounds because of the high quality gorgeous designs we often get through them.
How Do You Decide?
So we have amazing doors and gorgeous surrounds, but how do you choose? We recommend flipping through our catalog and choosing specific designs that appeal to you. Go online and look through Pinterest and other websites until you discover the perfect combination of entry door and surround for your home.
Still Not Sure? Come Visit Us!
We completely understand that you can't make a decision regarding your entry doors simply by reading our blog. Come visit our showroom at 50 East Palatine Road in Palatine, IL so you can get a hands-on feel for doors that you may be interested in. We keep several different types of doors on hand and can special order your custom door if we don't have what you want in the showroom. Come by or call us any time to discuss your brand new doors or windows.