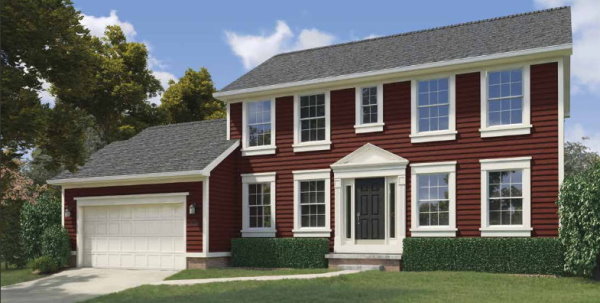 Siding is a big deal! Many people don't realize how much siding impacts the home until the time comes to change it. You can use different siding types to make an average ranch style home look completely different, or to create an entirely new look and feel for your craftsman home. Today we're going to share some information about the six most popular siding options because the ability to choose the right siding for your home relies greatly on education.
Vinyl – A very low maintenance requirement keeps vinyl siding in the forefront of siding options for homes. Many people don't like the plastic-like appearance of certain types of vinyl siding, but the low cost and low maintenance make it a very popular siding option. Vinyl siding may be purchased in a variety of styles from standard horizontal siding to vertical options.
Wood Siding – The rich look of wood makes it a popular option for bungalows, Cape Cod style homes, and cottages. Wood requires more maintenance than vinyl, but not so much that it removes it from the list. Wood siding is available in clapboard, shakes, and shingles. Clapboard involves installing planks of wood horizontally where the upper piece overlaps the lower piece. Shakes and shingles provide a smoother, more uniform look.
Brick or Brick Veneer – Brick is commonly used on colonial style homes but looks amazing on any type of home as long as the brick is installed correctly. Water can penetrate brick and mortar, so waterproofing and regular maintenance is required to prevent cracks and spalling.
Fiber Cement – Very low maintenance is required for fiber cement siding. It is non-flammable and termite resistant, but it is not completely resistant to elemental damage. Problems related to moisture are an occasional problem for fiber cement siding. Be aware of the possibility of asbestos in the fiber cement siding on homes older than the late 1980s; removal requires the assistance of a professional abatement contractor.
Stucco – Regular maintenance can make stucco siding last for the lifetime of the home. It is traditionally made up of sand, cement, lime, and water. The installation process includes applying a waterproof paper barrier and galvanized metal screening over the wood walls of the home before applying the stucco mixture.
Stone and Stone Veneer – The natural beauty of stone siding creates a very lovely appearance on nearly any home type. You may choose stone veneer over natural stone for a variety of reasons including price and weight. Yearly cleaning and maintenance ensures that this type of siding will look amazing and last for the life of the home.
As you can see, there are many different types of siding to choose from. Many homeowners choose to install two or more to create a very specific and unique appearance. You may, for example, choose to use clapboard or shingle siding on accent areas such as gables or bay windows, vinyl for the body of the home, and brick or stone for a decorative touch around the foundation or porch posts.
The appearance of your home depends entirely on the type of siding you choose as well as the doors and windows you use. Stop by our showroom at 50 Palatine Road in Palatine, IL to see the options we have available. We have many windows, entry doors, entry door surrounds, guttering, and siding options available to choose from.