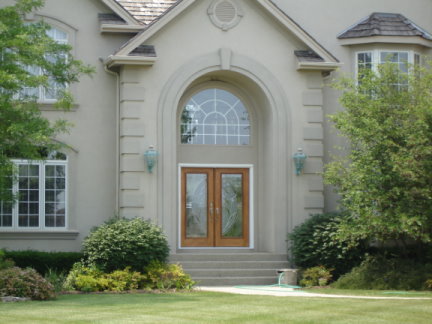 Successful remodeling projects revolve around several very important issues. As homeowners, we remodel because we're unhappy with the current layout or flow of our home but we like the neighborhood or general area and don't want to move. Today we're going to talk about window and door placement and how you can make the most of each by choosing options that improve your home's curb appeal and the energy efficiency as well.
Make the Most of the Scenery
Most homeowners purchase a home with some type of view. We may have a mountainous view, city view, or a great view of the back yard. Whatever makes up your view, make the most of it by installing large energy efficient windows. Go a step further by installing window treatments that will allow you to enjoy the view without compromising your privacy.
Windows are more than a way for us to view the outside world from the climate controlled comfort of our home. They provide an excellent way to allow natural light to enter the home as well as help with winter heating bills when correctly placed in a southwestern-facing room. Energy efficient windows will greatly improve the way your home retains heat in the winter and cold in the summer months.
Move or Expand the Windows
You aren't stuck with the window placement or size that you currently have. Talk to your contractor about changing the appearance, size, and placement of windows to achieve whatever goals you may have. Invite your contractor with you to visit our showroom to choose windows that you will absolutely love so that they can see your vision for the completed remodel project.
Replace the Entry Door with Something Amazing
The entry to your home may be as grand or as simple as you wish. We love to see homeowners make the most of their entry door and entry door surround because it brings an incredible sense of pride for homeowners who have created something unique. Add glass, stained glass, or nearly any other decorative panels to the sides of your entry door to create an appearance that really captures the attention of passersby and showcases your creativity.
Patio Doors
Much like windows, patio doors, sliding doors, or French doors can add a lot of incredible options for natural light and expand the view from inside of your home. Replace the single door that leads from the kitchen or dining room onto the deck with sliding glass or French doors to maximize natural light in those rooms while opening up the room to make it look larger.
Using Windows and Doors to Increase Your Floor Plan
A lot of homeowners look for ways to make their homes feel less claustrophobic. Windows and doors with windows in them are a wonderful way to increase natural light and open up the home. Consider talking to your contractor about opening up your floor plan and installing large floor-to-ceiling windows in strategic areas to further expand the feeling of openness in the home. Visit our showroom at 50 East Palatine Road in Palatine, IL to view our selection of windows, doors, surrounds, guttering, and siding first hand. We would be glad to answer any questions you may have when you visit us.