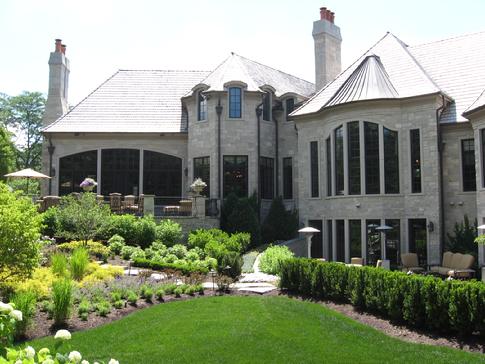 New windows have an incredible way of making your home look entirely different. They are, in fact, the second most important thing you can do to improve the curb appeal of your home. Siding is the first thing because it covers such a large area of the home and creates a major visual impact, but windows are generally easier to replace than siding and still carry quite a visual punch. Today we're going to show you several ways you can use new windows in your home to create an entirely new look and feel.
Replacing Windows in Your Home
One of the rules of window replacement is that you can almost always go bigger more easily than you can go smaller. For example, remove two windows and replace them with a much larger bay window, or remove an entire wall to replace it with floor-to-ceiling windows for an amazing view of the great outdoors. The right windows make a major difference in the way you view your home – in more ways than one.
Never take on window replacement as a DIY project. The structural integrity of your exterior walls must remain sound, otherwise you risk weakening the entire structure. Simply removing a window and replacing it with one of equal dimensions may not create much of an issue, but if supports are removed to make room for a larger window, they must be replaced to protect the home.
Removing Windows
It isn't impossible to reduce the size of an existing window or to remove it entirely. Removing a window or making it smaller requires the installation of new siding to take the place of the area the window used to cover. Your contractor will be able to give you great advice on steps to take to remove a window as well as the additional materials needed.
Choosing Replacement Windows
Think outside the box while searching for the perfect replacement windows for your home. Work with your contractor to create an entirely new look for your home and increase the curb appeal with style and grace while improving your home's energy efficiency. Consider adding a bay window, implementing sliding glass doors, or creating something truly amazing to really make your home stand out.
Visit our showroom to see our selection of windows and doors before you order from a big box store. At Lake Cook Interiors, we specialize in windows, entry doors, surrounds, guttering, and siding. We will help you choose the perfect replacement windows to enhance the beauty of your home. We're located at 50 Palatine Road in Palatine, IL.
A Quick Piece of Advice
Take before and after photos! You will, of course, notice the changes right away when your contractor begins removing and replacing windows. But make sure to take before and after photos so you can show friends and family what an amazing difference your new windows make. Share the photos with your contractor with a testimonial that tells others some detailed information about the project and how the contractor handled your project.